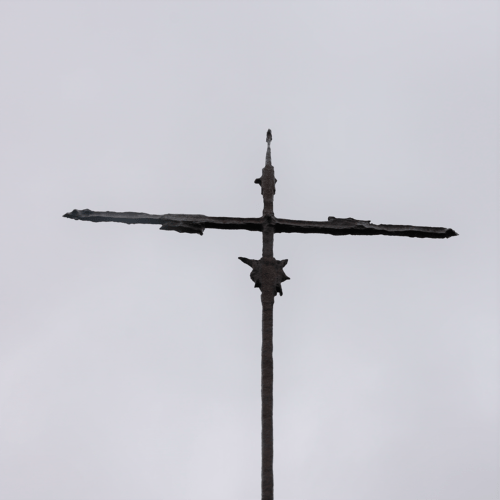 We announced it a few weeks ago but work has finally got going at our church restoration at St. Peter's in Chorley. Over the coming weeks our masonry team will dismantle the top of the steeple entirely, ready for a rebuild. Right now, the first job is to rake out the joints ready for repointing.
You can also see in the video a cross (left), which sits on top of the steeple. A steeple-topper decoration like this is called a finial and we'll be fabricating a brand new one to replace the worn out one. As you might expect, whether conditions at the top of a church can be a bit intense.
Along with these restorations, we will also be working internally on the plasterwork, creating access improvements to the belfry tower and working with our friends at Pendle Stained Glass to repair some of the glazing. We're underway and we'll have hands on site in Chorley for a couple of months, getting that church into tip-top shape!
We are very well versed in church restorations, having just completed work on St. Mary's in Barton-upon-Humber. We actually have another St. Peter's coming up too, in North Yorkshire. (Typical, you wait ages for a St. Peter's to come along and then two come along at once!) Churches are always in need of restoration, and are a great source of pride to the local community, so we're always happy to do the work.
Stay tuned to our social channels for updates on this church restoration and all our other projects, and subscribe to our YouTube channel for continued news!