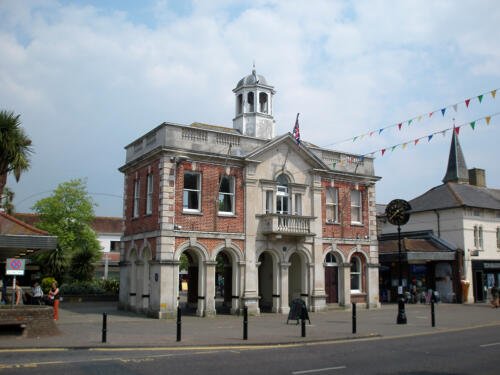 We have recently been awarded a new contract to conduct restoration work at Christchurch Town Hall, Dorset.
Christchurch is located east of Bournemouth on the south coast of England. The port town played a major role during the Saxon era, connecting England to the continent, however, the importance of the port declined as the size of sea-going vessels increased. During the 18th and 19th centuries, smugglers and illegal traders used the port.
Christchurch Town Hall is a Grade II listed building and was originally constructed in the market Square in 1746. However doe to the rapid expansion of the town and the nearby railway network, the town Hall was rebuilt at its present site (Blanchard's Yard in the High Street) in 1860.
The Town Hall is constructed from red bricks and white stone dressings, eaves, cornice and balustrading. It has a hipped slate roof with lead-lined valley gutters. The central domed cupola and weather vane form a dramatic architectural feature typical of the historical period.
In recent years, the building has suffered from various problems associated with a building of its age. Restoration work was carried out in 1996 to the exterior stonework, roof and paintwork. As well as some refurbishment to the interior. More recently (January 2016) major redecorations and refurbishments were carried out in the Mayor's Parlour. After ingress of water from a blocked valley gutter caused internal damage to the ceilings and walls.
Remedial Work to start on 20th January 2020
According to archive records, the cupola was replaced in the Autumn of 1988 due to its poor state of repair and the threat to public safety. A recent survey has revealed water ingress through and around the base of the cupola. This has resulted in several of the main timber supports having wet rot. Temporary repairs have been made to prevent further water ingress, however, the Cupula, its associated timber structure and lead detail will require remedial work.
The work will involve deconstructing and removing the cupola from the building. The timber construction will return to our joinery workshop in Burnley, Lancashire. Our joinery team will manufacture new sections from Oak, to replace the rotten and damaged areas of the cupula. We will also make repairs to the supporting timbers where wet rot has compromised the structure. Before we refit the newly restored cupula.
We will then replace the Failed lead work at the base of the cupula and install new lead detailing on the cupula dome. We will clean the existing slate roof and replace any broken or slipped slates.
Maintaining the characteristics of the building and its visual impact on the street scene is of paramount importance, we must carry out any remedial works in a sympathetic manner with the full support and guidance from the Authority's Conservation Officer. We expect the work to take 8 weeks' starting on the 20th January 2020.