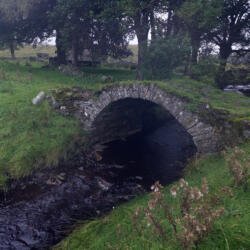 Grisedale Beck Bridge is a Grade II listed structure on a popular walking route in South East Cumbria. Located approximately 2.6km from Garsdale, Sedbergh.
UK Restoration Services have contracted to consolidate the bridge. This will ensure that it remains structurally sound and reduces any further deterioration to the structure. Although the Bridge is located in Cumbria, it also sits within the Yorkshire Dales National Park. Therefore, the Yorkshire Dales National Park Authority (YDNPA) will provide funding and support for the consolidation works. Our team will work closely with YDNPA conservation officers to ensure all works conducted on the bridge are en-keeping with its history & heritage.
Probably constructed in the late 17th century from course rubble. The bridge is of heritage significance as it was part of a historic route, possibly a former trade route. It also forms part of the old settlement of East and West Scale.
The nearby settlement comprises two C17 (or earlier) farmsteads, and a Quaker burial ground. The place has strong historic associations with the early development of Quakerism in the Yorkshire Dales. A Quaker register for Grisedale and Garsdale records a friends' burial place at Grisedale as early as 1679.
Grisedale Beck Bridge is a packhorse or 'packsaddle' bridge. Most likely built with very low parapets so as not to impede the passage of laden packhorses over it. The route has not improved to carry modern vehicular traffic, therefore, the bridge remained unaltered in terms of its design and size.
The bridge arch displays deeply eroded mortar joints that require re-pointing and possibly packing/pinning with stone in places. The bridge spandrel's & revetments will require clearing of vegetation, rebuilding and consolidating.
Work will start early November and estimated to take 1 week.