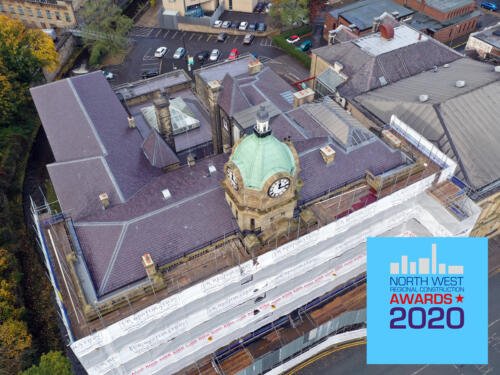 We are pleased to announce that UK Restoration Services have been shorted listed for the Conservation & Regeneration Award at the North West Construction Awards 2020. Our recent work at Burnley Town Hall has been selected as a contender for the newly created category, focusing on the preservation or rehabilitation of old or historic buildings and sites.
"The awards are the most significant celebration of best practice and best value in the north west and the only event of its kind that connects every single discipline of construction working towards a sustainable built environment." – Professor Peter McDermott, Chair of the North West Judging Panel
Phases 1 – 4 of the restoration project at Burnley Town Hall Primarily focused on the on the repair of the slate roofs, Lead details & Stone Chimneys. The work started in January 2019 and spanned over 18 months until June 2020. Phase 3 also incorporated the restoration of the clock tower, including the replacement of the copper dome & construction of a new oak Lantern. Many sections of the roof & clock tower were over 100 years old and required immediate intervention to prevent further water ingress to the building.
"This has been an exciting, yet challenging project with months of hard work from our team. We have worked closely with the project management team at Liberta, Burnley Council & local conservation officers to deliver a high quality restoration project, with the aim of conserving the building for future generations" –  Rob Mckay, Contracts Manager, UK Restoration Services.
Phase 5 of the project is on going and will include extensive stone repair to the front façade of the building.
An online ceremony will be held this year on the Thursday 26 November 2020 From 4.00pm. The virtual event will aim to celebrate and recognise the constructional achievements from across the region.
There are a total of 15 categories at this years awards which includes the new category "Conservation & Regeneration" in which UK restoration Service have been nominated. Construction work that involves the conservation and regeneration of historic buildings requires great care and specialist skills and techniques. Judges will be looking for excellent outcomes and high standards in the repair, re-use and revitalisation of heritage sites and buildings in the region.
Company Director Phil Braithwaite commented – "I am so delighted that the work we are doing to restore and Conserve local land marks such as Burnley Town Hall is being recognised. Being shortlisted for this new award is a credit to our skilled operatives and dedicated management team".
Find out more about the North West Regional Construction Awards 2020 by visiting the official website – www.constructionawardsnw.co.uk