Restoration of Historic Church Doors
Halifax, Yorkshire
Halifax Minster is a church in Halifax, West Yorkshire. A church has sat on the site of the minster since around 1120, and some portions of the stonework of the original 12th-century structure can still be found in the present building. The current minster, full name Minster and Parish Church of St. John the Baptist, was largely constructed during the 15th century. Major restoration works had taken place in the 1870s and in 1983, which included removal of galleries, altering of floor levels and pews removed. The church was granted minster status in 2009, and the building is Grade I listed.
On one of the towers of the minster sat a wooden door, exposed to the elements for over 100 years, which led from the internal tower to the roof. UK Restoration Services were hired to restore the door to prevent further deterioration but upon inspection the decision was made to completely remove the door and door frame and replace it with a bespoke new one in our joinery workshop.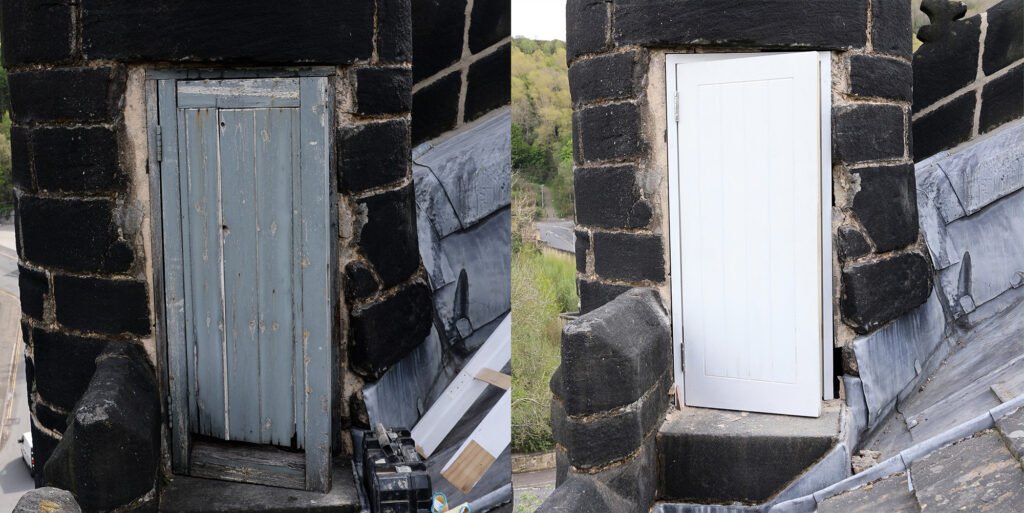 Joinery & Restoration
The main focus of the restoration was on a door on the north easternmost tower. Upon entering the Minster's east-facing door, a narrowing spiral staircase led up the tower to the roof area. Leading out onto the roof was a small wooden door, which had been in place for over a hundred years. Due to its external position, it was in the face of the weather elements, despite infrequent usage. Decades of rain, hail, wind and storms had severely damaged the door and door frame. While still a functioning door, the wood was rotten, soft, and had a severely restricted lifespan. The decision was made, rather than restoring the existing door, to take measurements and supply the minster with a brand new door. Our joinery team both fabricated the new door and removed the old one.
Use Of Douglas Fir Oak
Our carpenters created a bespoke door in our joinery workshop. Rather than replace it with a like-for-like oak, Douglas Fir was brought in from New Zealand. We made the frame from the same wood and precisely measured to replace the old one and accommodate the new door. The whole structure was painted white using water-resistant paint. On site, the job was complete in a day. The existing, rotting door and frame were removed and disposed of.
The new frame was drilled into place in the gap left from the previous frame. The angles of the frame were kept in place using a chipboard placeholder which was removed upon completion of the frame. The minor issue at this point was one area of the wall which had crumbled away in the weather over time, making one portion of the frame difficult to affix, but a suitable section of wall was located. The door was then attached to the frame and slotted in perfectly, where it will stand for years to come.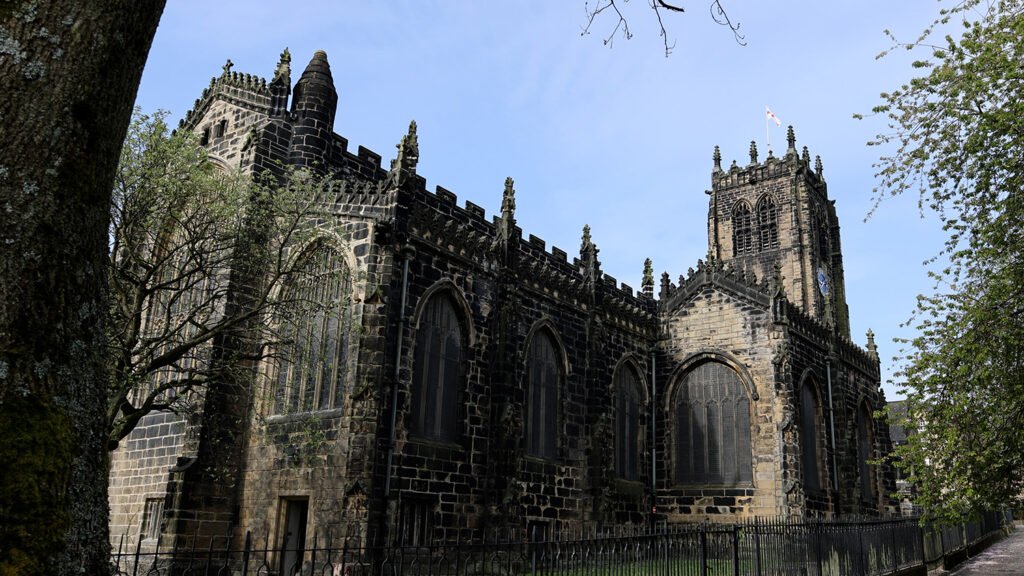 Don't forget to keep yourself updated with our projects on our YouTube channel