The Baptist Church
The Peel Street Baptist Church in Accrington was built in 1850 to unite local people with similar beliefs. It sits right in the centre of the Lancashire town and has seen Accrington develop from a textile industry town, to a brick manufacturing town, to its current state as a market and shopping town. Over the last twenty years the church interior has been refurbished to enable its use for a wide range of activities and meetings.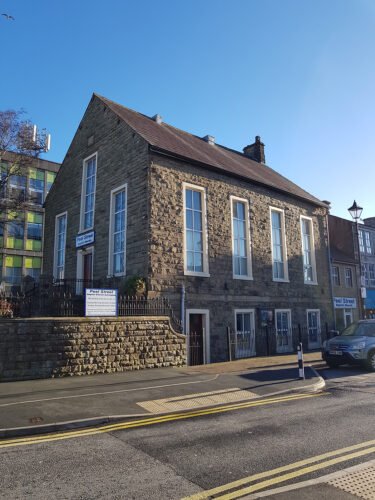 Lime Pointing Restoration
Our restoration works comprised of:
the removal of failed cement-based render to the gable end
lime pointing
new lime based render along with associated lead work
decoration
We sub-contracted CWR Scaffolding to erect access scaffold to the gable end to enable our operatives to begin the removal of the existing render and pointing. We photographed the existing render and measured prior to removal work taking place. Then we were able to begin the lime pointing.
The area was wet down prior to re-pointing and the lime mortar was mixed thick enough to ensure there was no run staining of the masonry. The lime plaster was then applied in three coats: firstly the base coat, then the float coat and finally the top coat. All substrates were pre-wet using handheld water pump sprayers. We left a minimum of five days between the coats to make sure the previous coat had sufficient drying time. Next, we applied two coats of silicate masonry paint to the lime render, once drying time had passed. We then installed new Code 5 lead flashing followed by the extension of slates, using wider reclaimed slates, to overhang the new render.
Due to the church's central location, the building saw a lot of day-to-day use. This included both foot traffic at ground level and vehicles in the busy town centre. Therefore it was very important whilst undertaking works that we managed the issues in accordance with Hyndburn Council's building control requirements and the needs of the church. We also put permits in place for pavement closures and scaffolding to ensure a safe working environment for all.
Don't forget to keep yourself updated with our projects on our YouTube channel