Stone Column Removal

Stonyhurst College is one of our big jobs of the year, with so many different tasks and jobs. We've had windows replaced, removed and installed mullions, joinery work, grouting, raking out and pointing. Now we've been hard at work removing a stone column from the façade.
As you can see from the video, the column was badly eroded and had lost supportive stonework from the back. The stone is delaminated, so a new fluted section of the column was needed. If left in its current state, over time it will continue to weaken. Phil and Scott were on site to talk us through the column removal.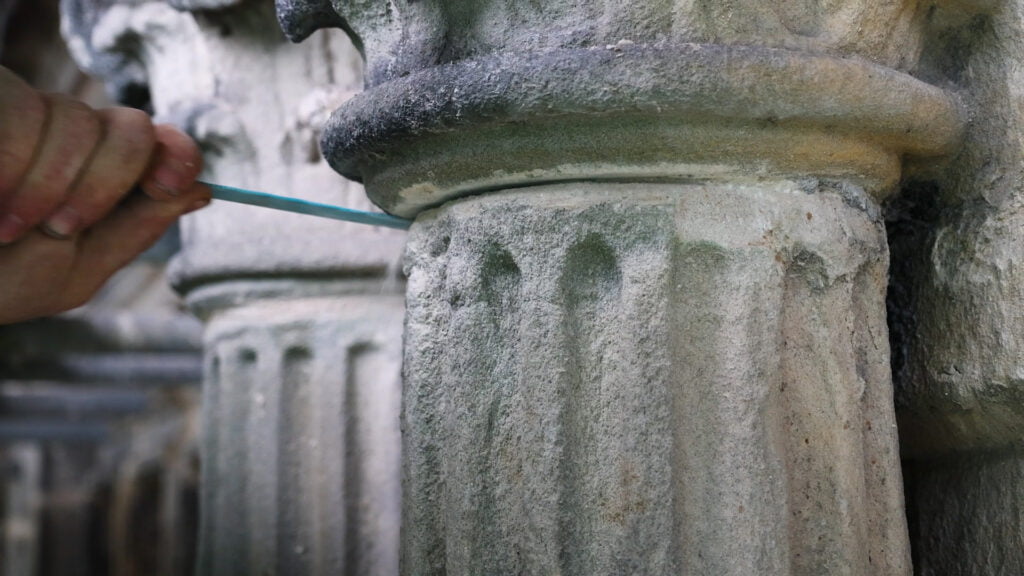 Pins, Or No Pins?
We knew going into the job it would either be about half an hour, or six hours. Some mullions and columns are pinned in place, meaning a small rod is connected to the stone frontage at each end. We wouldn't know one way or the other until we got some thin blades into the pillar and chopped out the mortar.
Once we discovered there were no pins, the task became a lot quicker and we delicately extracted the column. So the building did not lose any support in this area, we placed an acrow prop in place of the column. This stone column will now head over to our stonemasons, who will replicate it ready for a new installation.
It was a delicate job as the pillar was in the oldest part of the building. Extra care had to be taken to make sure we didn't damage any other stone on the frontage. The column was rested on hessian to avoid any damage upon removal, before it began its gentle journey down the winch and off to the stonemasons.
The brand new column will be in place soon and will strengthen that area of the building for decades to come.
Keep up to date with our projects on our YouTube page!