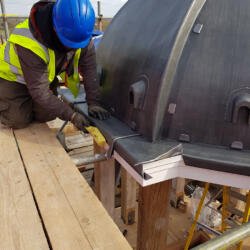 Heritage Leadwork often refers to leadwork carried out on listed or historic buildings. The work comprises traditional methods and materials. This can include Lead roofing and guttering. As well as decorative leadwork found on domes, spires, churches, castles and stately homes.
Lead is a versatile material that can be bossed and welded into a variety of shapes. Lead has been used for centuries to create decorative features as part of roof and gutter installations across the UK. Heritage leadwork installations are considered works of art. Some of the oldest leadwork in the UK is well over 100 years old and often requires repair or replacement.
Buildings with historic significance are normally listed or situated within a conservation area. This means any repair or restoration work conducted on the building has to be in keeping with the building's heritage. In most cases, restoration work is "like for like". This often presents unusual challenges that need a diverse range of skills and experience working with lead.
Lead Codes – Lead codes refer to the thickness of the lead sheet, Starting from code 3 up to code 8. Code 3 is the thinnest code and often used for flashings. Whereas code 8 is the thickest and used where resting water is common on parapets and valleys. Selecting the correct lead code is vital for heritage leadwork repairs or restoration. The correct code ensures the longevity of the finished product. Most lead applications fail when the roofing lead of the incorrect size is used.
Project managers work with conservation officers, architects, and clients. This ensures the work is completed to the highest standards and specifications. We have an in-house team of skilled lead workers and master roofers. Whom have knowledge and expertise to repair, restore and replicate ornate lead details created hundreds of years ago.