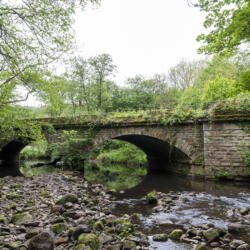 UK Restoration Services is pleased to announce the contract award for a conservation project on the Twin Arch Bridge, North Yorkshire, following on from our Tender Submission.
The building conservation work aims to restore the bridge to a complete structure, rebuilding the parapet walls, adding in-river protection and safeguarding the bridge for future generations to enjoy. The project orchestrated by the North Yorkshire Moors National park Authority, is a part of the "Land of Iron" programme.
The programmes aim is to record, Conserve and protect the ironstone mining and railway heritage of the North York Moors.  Funding is provided by the National Lottery Heritage Lottery Fund (NLHF), the Authority, David Ross Foundation and many other partners.
More information about the Land of Iron Projects can be found at northyorkmoors.org.uk/looking-after/landofiron
History of the Twin Arch Bridge
Nearly 100 individual projects make up the Land of Iron programme, however the Twin Arch Bridge is one of the key projects. This impressive structure was built around 1847 when the Whitby-Pickering railway was upgraded from horse to steam power. Although the main railway was diverted away from this bridge in 1865, it remained in occasional use until the early 20th century. The bridge now carries only walkers on the Rail Trail path over the Murk Esk.
Work on the bridge is expected to start at the end of June and will take approximately 3 months. It is expected that the footpaths will remain open at all times, or with very limited temporary closures.
Useful Links
North Yorkshire Moors National park Authority – https://www.northyorkmoors.org.uk/
National Lottery Heritage Lottery Fund – https://www.heritagefund.org.uk/
David Ross Foundation – http://www.davidrossfoundation.co.uk/