2021 has been a busy year for UK Restoration Services. We've travelled the country,  looking back on some of our incredible projects.
Winter/Spring
Our 2021 started with continued work from December at Lincoln Crown Court, decorating the Colonnades. The rooftop features were cleaned up and fully restored, clearing out moss and vegetation from the Grade II* Listed building.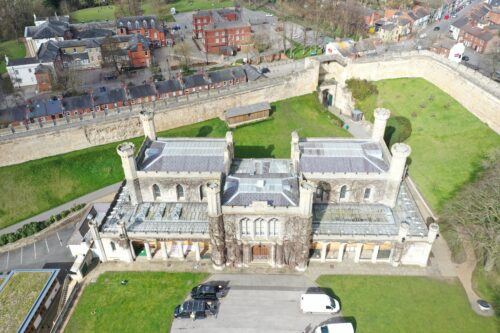 Lincoln Crown Court
January also saw one of our biggest challenges, which was the lowering of a brand new cupola onto Salford's former Education Office. The previous wooden structure was dilapidated and in danger of falling onto the busy A6 below. We'd built a brand new one and had it lifted carefully into place at the start of the year.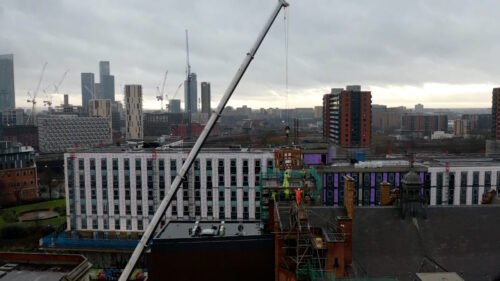 Back in our home county in Lancashire, we spent February and March at Browsholme Hall, a stately home which needed a great deal of roofwork. Our lads went up there and fixed chimneys and tiles to halt water ingress and get the roof back together.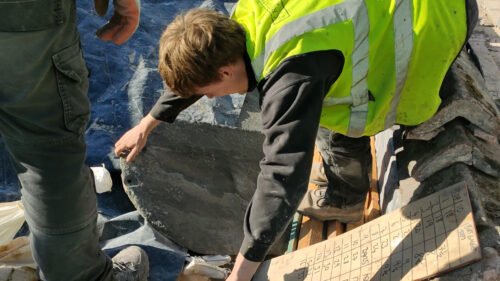 A long-term project in Ripon was seeing intensive action all the way through 2021. Leaning heavily to one side, March was the month where we stripped it down to bare bones to straighten it up.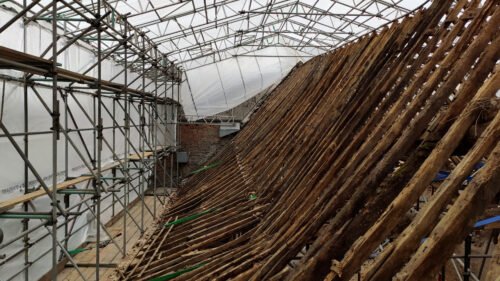 By April, the acrows were in place holding it up, and with everything secured, we inched it upright. The barn straightened up, the weight was taken off the remaining wall, and saved from collapse. All we had to do now was rebuild it.
Also in April we went to the seaside! But no sandcastles for us, just concentrating on the HSBC building in Cromer, Norfolk. We raked out and repointed the façade, and then washed and maintained the stonework, ready for the summer season.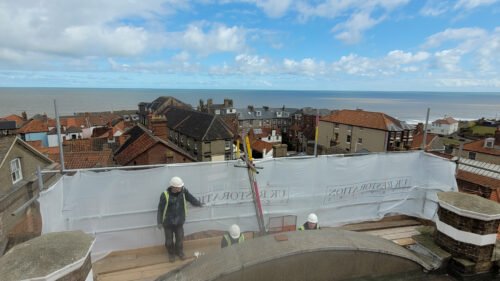 In May, we were back at some lime kilns outside Clitheroe. One of the busier tasks was turfing the kilns, which required cutting up turf from a nearby field, loading it into a vehicle, ferrying it down to the kiln, unloading, and winching it up to the elevated position. Moving a whole field is harder than it sounds!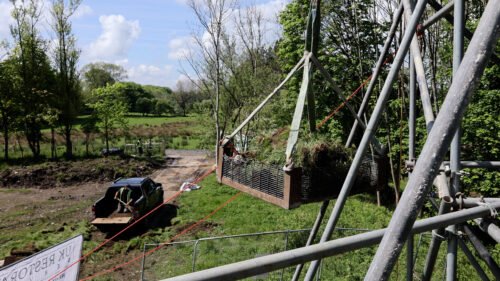 One of our more unique carpentry jobs was to fit a new door to one of the towers of Halifax Minster, which we completed in May. The previous door, also wooden, was weakened and damaged by years of rain and wind, so our master joiners built a replacement to an inch-perfect fit. Our door will stay there for years and years!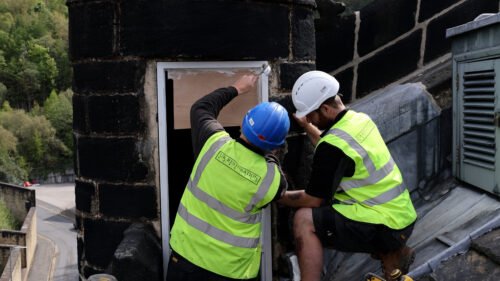 Summer
In June, we had two visits to the Burnley Empire Theatre, which after years of neglect was seeing considerable water ingress and roof damage. We got in to waterproof the roof and prevent any further leaks. The Burnley Empire Trust continue to work on the building and hopefully we see this restored to its former glory soon.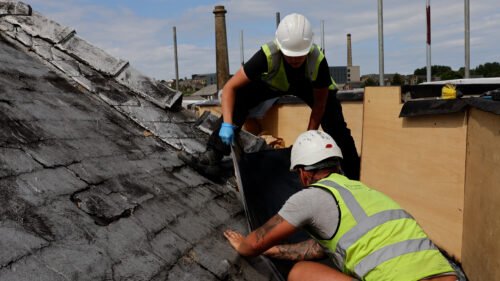 Also in June we began our work on Darwen Tower. We were very proud to help restore the tower, which in its exposed position, had been battered by the elements over the decades. Our work on the tower strengthened the structure and it will continue to gaze down on the town of Darwen for years to come.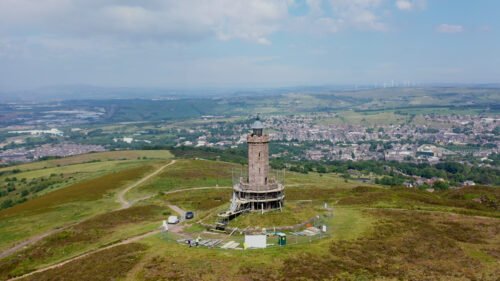 In the baking sun of July, our boys were on lime harling duty in Grasmere in the Lake District. The church, St. Oswald's, has seen plenty of work in its 1400-year history, and we were very proud to add to its list of maintainers.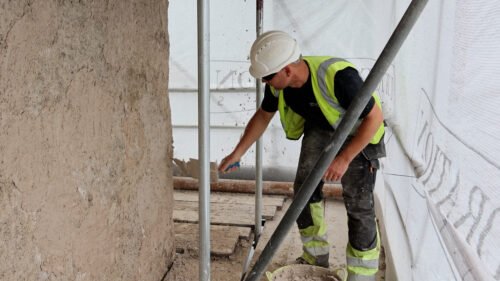 Throughout July and August we were rebuilding a wall in Foulridge, Colne, alongside the Skipton Road. And every time we got to our target, we was asked to do a little bit more! Eventually we rebuilt and secured over 100 metres of stone wall along the A56.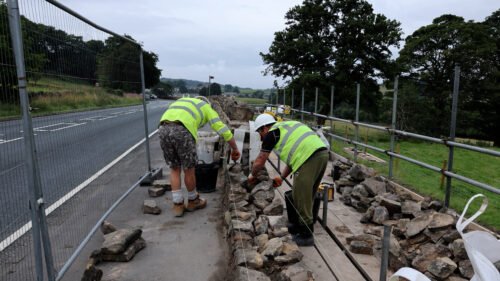 Just down the road at the same time we were fixing up the Colne Muni, getting it ready for panto season! As a result of long-term damage and lead theft, the roof had developed a number of leaks. Some grouting, de-vegging and waterproofing was needed, and by the autumn the scaffold was down and the roof was looking beautiful.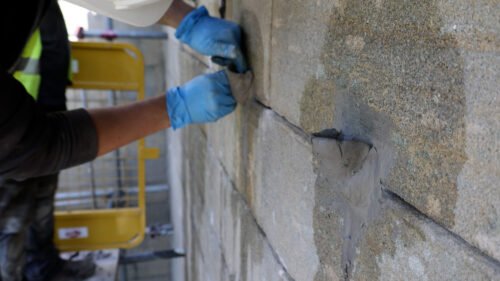 In September, one of our biggest-ever creations was completed and shipped to a barn hidden deep in the Yorkshire Dales with extensive roof damage. Our carpenters built a truss to fit on the barn, weighing over 500kg, nudged it down the narrow country lanes, and secured it to the barn. Not a joint out of place, and it'll keep the barn upright for decades to come.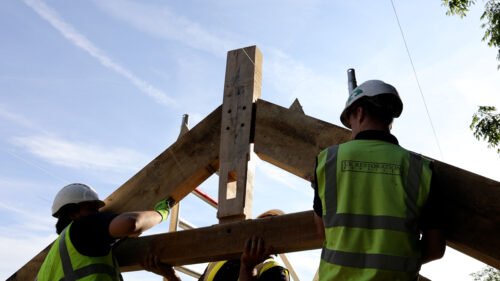 Speaking of barns, that barn in Ripon was almost unrecognisable from the skeleton we had rescued in March. Walls rebuilt, a sturdy A-Frame, rebuilt rafters and hundreds of tiles later, the barn was looking more and more barn-shaped by the day. Considering how close it was to falling over 12 months prior, this barn was a tremendous success story.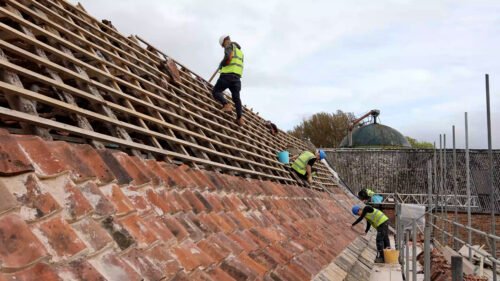 Autumn/Winter
Something else we'd been working on all year was Burnley Town Hall, which by October was seeing considerable improvements, with almost the whole building being raked out and repointed. The slow task of removing, restoring and re-bedding stones had been a huge but successful undertaking for our skilled stonemason team.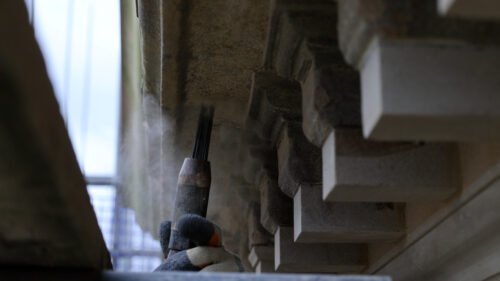 As autumn rolled in, we got a duo of bridges rebuilt in the darkening November evenings. Our new grab made its debut and helped with the breakdown and rebuild of two damaged bridges in West Lancashire. It certainly made us more efficient and saved us hours of chiselling, helping us do an expert job in half the time.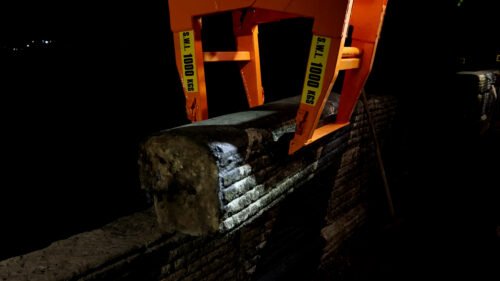 Also in November, over in North Yorkshire, we were rebuilding a chimney stack on a cottage. The previous chimney had been extensively damaged, so with some skilled stonemasons on site, it was completely pulled apart and rebuilt. It needed a couple of new stones here and there, and by the end of the month, it was perfect, totally rebuilt and in line with the rest of the neighbouring structures.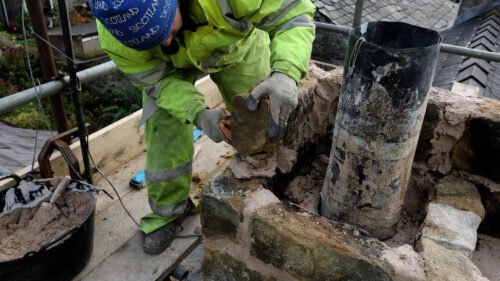 And in December we began work on some damaged window frames on a cottage in the Forest of Bowland and battled the winter element on some of our bigger jobs.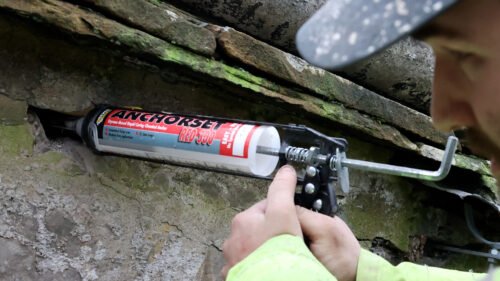 Finally we ended with two complete barns. The barn with our new truss got a brand-spanking new roof. We dodged some stormy weather to get some Big Six cement fibre sheeting on the rafters. After decades of rot, the barn was finally sheltered again!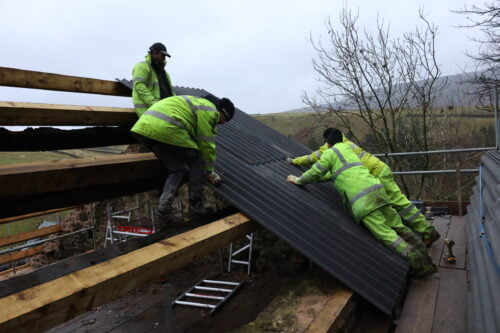 Finally, the long-term project in Ripon edged close to completion as the roof was finished and the scaffolding came down, revealing our beautiful work for the first time. Very proud of it and we wish it a long and healthy life!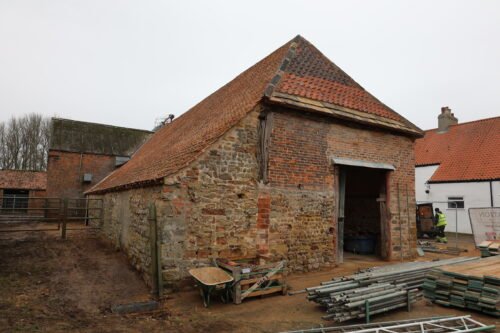 A great deal of work has gone into our projects this year, covering Cumbria, North Yorkshire, West Yorkshire, Lancashire, Lincolnshire, Norfolk, and Greater Manchester. Restoring the UK little by little!
A huge thanks to our hard-working team, from our stonemasons to our roofers and from our joiners to our builders and everyone in between. It's been a busy, busy year, and our lads haven't let us down. Here's to 2022!