Earlier this year we started poking our cameras into, under and between the faces of our team on site, capturing their wonderful workmanship for posterity. We always have multiple projects on the go at once so we're never short of action to capture. This summer has taken us through some Yorkshire barns, Darwen Tower, Halifax Minster and a variety of buildings in Burnley, including the Town Hall and the old Empire Theatre. We filmed as much as we could and packaged it all into snappy little bitesize videos. And then simply put them on YouTube and other social networks for you to enjoy.
We've now been able to post all of our videos into one easy-to-find library on our website! So whether you wanted to see how we straightened a leaning barn, lifted a stone up a town hall or how we've turned lumber into a truss, it's all there. It also includes some interviews, explanations and introductory guides to raking out and grouting, for the restorers of the future.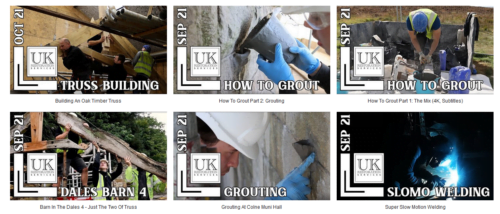 So why not have a click of THIS lovely text here and find a video that interests you. Plus, it'll be constantly continuously updated with our ongoing work so keep an eye on it!