Heritage Joinery
Joinery is the application of craft and techniques to join wood components into a complex item. Heritage joinery refers to joinery that is used in listed buildings. These buildings are recorded on the National Heritage list. Listed buildings can include residential properties, cathedrals, town halls and public houses. Each are classified into grades to identify their historic or architectural importance.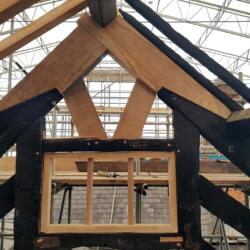 Wood is naturally beautiful and adds character and warmth and is also durable. A good quality wood product should, with a little care and maintenance, last a lifetime. We have used wood working techniques for thousands of years across the world. Examples of historically important joinery can still be found Britain. Many period homes, churches and castles still have their original wooden features. There are many pieces of architectural joinery across the country that were manufactured hundreds of years ago.
The intricacy and complexity of Heritage joinery work on listed buildings requires a specialist skill set. Our experienced team of joiners have the knowledge and traditional skills essential to take on such technical and detailed joinery.
The most common problems with heritage woodwork are often caused by water ingress and lack of maintenance. Our management team work alongside conservation officers, architects and clients throughout the design and planning process. Experienced joiners then conduct sympathetic repairs and restoration in keeping with the building's history and heritage.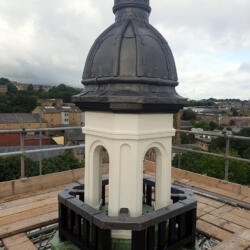 We use traditional hand-crafted joinery skills, carefully blended with modern advances. The highest quality materials are sourced from across the country. All materials are then fabricated in our bespoke 2000 sq. ft joinery workshop.
We aim to produce work that will be long-lived, easy to maintain, and will blend with its location. This is achieved by combining quality materials, design and craftsmanship.
Conservation Joinery
British joinery techniques have evolved over centuries. The UK is home to distinctive architecture that is not found anywhere else in Europe. The singular nature of these designs is very important in conservation areas for example, where replacement windows must match the originals exactly.
Often the phrase "conservation joinery" is used alongside "heritage joinery". Conservation areas are usually designated by the local authorities. Their aim is to protect whole areas that have special historical or architectural interests. This includes the buildings within this area. There are over 10,000 conservation areas in the UK.
Recent Heritage Joinery Work
We have completed heritage joinery work on some UK's oldest and most iconic buildings. These include Christchurch Town Hall, Wythenshawe Hall and St. James the Great Church, for clients such as English Heritage, BCP Council and Manchester City Council.