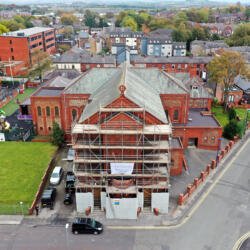 Our team recently started work at St Joseph Church Heywood. Most of the work will take place on the western elevation of the building. This will include the removal of any existing cement based pointing, cleaning of the joints, and new pointing with a lime-based mortar.
Cement mortars known for their non porous properties help to repel water away from the building. However, moisture trapped behind the pointing and brickwork cannot escape. Over time, this trapped water can cause the brickwork to decay and the pointing to fail. Failed cement pointing then allows water & moisture to ingress the building, causing further damage, both internally & externally.
Lime mortars have porous properties which allows moisture to escape through the pointing without causing damage to the surrounding brickwork or the pointing itself.
The now Grade II listed Church, designed by architect Henry Oswald Hill, took around 3 years to build. They laid the foundations in October 1913 and construction completed in 1916.  They extended the original structure between 1929 and 1937, with further work carried out around 1969. Historic England Listed St Joseph Church Heywood in April 2014.
Once the external fabric of the building is pointed and made watertight, our team will conduct some internal repairs.  This will include the removal of the gable wall plaster, damaged by water ingress. We will make patch repairs before redecorating the gable wall. 
We have scheduled the work to take 10 weeks beginning mid October 2019.