Lead Roofing
Lead has been used in roof construction for centuries. Lead is a heavy metal that is soft and malleable with a relatively low melting point. It can be formed into almost any shape, is highly resistant to corrosion and non-combustible, making it ideal for all roofing applications.
Lead has a proven track record as a roofing product and has the potential to last over 100 years if installed correctly. Many heritage buildings have lead roofing elements that are well over one hundred years old. Lead is thought to have been first mined in 6500 BC and the Romans used lead between 500 BC and 300 AD to construct aqueducts. Historians have also found the Normans used lead in their buildings, in the form of both pipes, guttering and roof coverings.
Lead is also 100% recyclable, making it one of the most environmentally friendly materials available for roof covering. Around 95% of lead used today is made from recycled material.
Lead Specialists
Lead is highly toxic and roofers must follow strict rules when handling and working with lead. The toxic effect of lead is cumulative and only affects those who handle it every day. Lead is not toxic to homeowners when used on their roof. It remains the most efficient and effective way to waterproof joints in roof construction.
Lead roofing elements, such as flashings, flat roofs and weatherings protect vulnerable joints on a roof. Contributing to the roof's performance, it is vital that the lead is installed correctly. Junctions, abutments and chimneys often need tricky detailing. Therefore, a skilled professional should always complete lead work.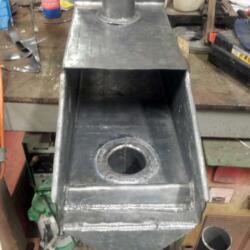 On heritage buildings and period properties, guttering elements of a roof are often formed in lead too. This can include gutters, outlets and hidden box gutters. It is imperative that any lead gutter details are formed and installed to the highest standard, ensuring water is managed correctly and drained away from the building.
Our craftsmen are professionally trained and have years of experience working with lead. We strive to provide high quality, consistent work, even on the most complicated projects, ensuring an attractive and weatherproof finish. Our team specialises in all forms of lead roofing and heritage leadwork.
We believe that the best way to ensure a high level of service is to constantly look for ways to improve. That's why we invest in training and improvement programmes for all our craftsmen. We work with the Lead Contractors Association to maintain the highest standards.
Recent Lead Roofing Works